Are you tired of spending hours or even days trying to create the perfect logo for your business? Are you tired of hiring a logo designer, negotiating the price for the project, writing a detailed description of what your business is all about, and going through multiple rounds of meetings and revisions? If so, it's time to discover the future of logo design – Logomakerr.AI.
Logomakerr.AI are revolutionizing the way that businesses approach branding. Using artificial intelligence, these tools allow you to create professional-quality logos in just a few clicks.
So why choose Logomakerr.AI over traditional design methods? Here are just a few reasons:
Speed
One of the most significant advantages of using Logomakerr.AI is speed. You can create a logo in just a few minutes. Choose your preferences and let our AI-powered tool do the rest. You can get your logo instantly without waiting for a designer to complete your project.
Use our logo maker to create a distinctive logo that conveys your brand's values and differentiates you from competition.
Convenience
Creating a logo with Logomakerr.AI is also highly convenient. You only need an internet connection, and a computer or smartphone, web-based, no need to download any software – everything you need is right at your fingertips. Plus, they are available 24/7, so you can create your logo on your own schedule.
Professional quality
Many may still be skeptical about the quality of logo design from an AI logo maker. Look at ChatGBT! If AI can answer complicated questions, write stories and jokes, explain concepts, write codes, and even teach you to do bad things, will you still suspect AI cannot help you to design a professional logo?
Logomakerr.AI is designed to create professional logos and is on par with what a human designer might create. Advanced algorithms program them to analyze your preferences and instantly generate logo options tailored to your brand.
Affordability
Traditional logo design can be expensive, especially if you're hiring a professional designer. With Logomakerr, you can create a professional-quality logo for a fraction of the cost. Here is the logo pricing from Logomakerr.AI. This means you can create a logo that is both affordable and high-quality without breaking the bank.
Customization
You have complete control over the look and feel of your logo. This means you can create a logo representing your brand and your unique personality and values. To do this, you can choose from a wide range of fonts, colors, and graphics to create a logo that is tailored to your specific needs.
Our logo maker offers a variety of customization options to help you fine-tune your logo to your exact specifications. You can choose from different font styles and sizes to find the perfect look for your brand. You can also select from a range of colors to create a logo that stands out and captures the attention of your target audience.
In addition to fonts and colors, our logo maker also offers a range of graphics and icons to choose from. These can be used to add visual interest to your logo and help convey your brand's core values and message. With so many customization options at your fingertips, you have the power to create a logo that is truly unique and tailored to your brand.
But the benefits of using an Logo Maker go beyond speed and convenience. logo maker is also changing the way that businesses approach branding. In the past, creating a logo was a time-consuming and costly process that involved hiring a designer and going through multiple rounds of revisions. With a logo maker, businesses can create and test various logo options in minutes, allowing them to find the perfect logo for their brand more efficiently.
Of course, there are some limitations to using a logo maker.
For example, it may be difficult to achieve a unique logo, as the tool generates options based on pre-determined parameters. However, creating a logo that stands out from the crowd is still possible with the right customization options and creativity.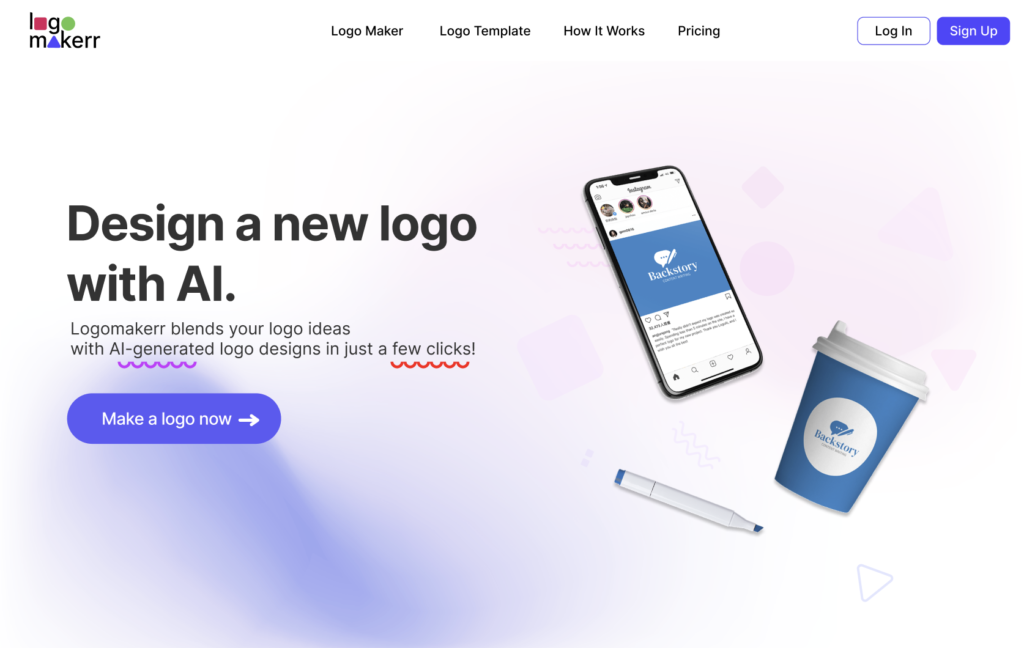 Overall, if you're looking for a fast, convenient, and affordable way to create a professional-quality logo, look no further than Logomakerr.AI. Our AI logo generator is the future of logo design, and we can't wait to help you take your brand to the next level.