Choosing the right font for your logo can be difficult, especially after knowing that there are over 200,000 fonts worldwide – each with different characteristics and styles. With thousands of options available, deciding which one to use can be overwhelming.
That's where Logomakerr.ai comes in – an AI logo maker that helps you unlock the potential of different fancy fonts for your branding and design needs! But can an AI logo maker work as a font generator as well?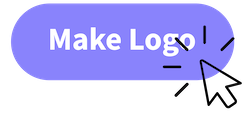 Logomakerr.ai as a Free Font Generator
If you are looking for a free font generator that you can use with just a few clicks, look no further than Logomakerr.AI. Though this AI-powered tool won't generate a brand new font styles that's unique for your logo, it can show you thousands of unicode standard fonts available down to that 200,000th typography design.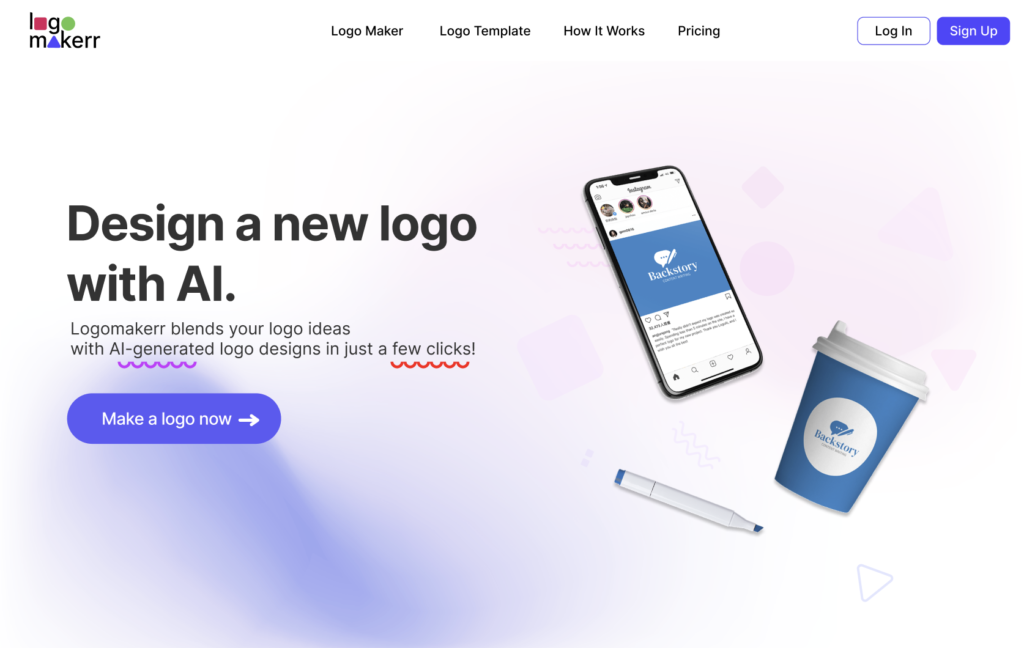 Thanks to the available cool fonts on Logomakerr.AI and its partnership with Google Fonts, logo designers (pro or beginner) can craft a logo that stands out from the crowd!
Logomakerr.ai Font Generator Library and Customization Options
Logomakerr.AI is one of the purposeful online logo makers that boasts an extensive collection for it to be generalize as a font generator. With this tool, you'll surely find the perfect font styles that aligns with your brand's personality and message – that's how confident we are.
With that in mind, let's explore Logomakerr.ai's Font Generator Library and how to customize it for your logo.
Present main font styles with popular brand samples
The first thing you'll encounter when choosing a logo with Logomakerr.AI is their six main font styles in unicode characters: Modern, Elegant, Slab, Handwritten, Playful, and Futuristic. Doing so allows you to choose the most likable fancy or cool fonts for your brand because they're typically the ones you can see on popular businesses.
Logomakerr.AI suggests new fonts.
If you don't like any typography out of the six primary fonts presented, you can click 'Generate' and choose a suggested default logo. The logo's symbols, color, layout, background, and font can be edited. In that case, you can ask Logomakerr.AI to recommend a new font design – kind of like a font generator website!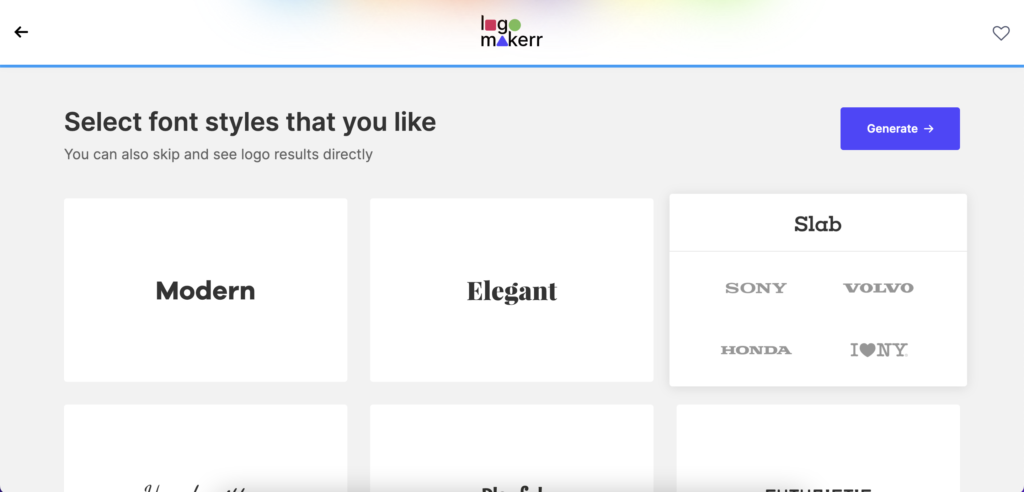 Upload font to match your preference
If you still don't like the newly suggested fonts, no judgment because Logomakerr.AI allows you to upload your preferred font to match your desired logo design for your brand. However, at this stage, you must do your due diligence to research the font generator you like. This means you must work across the internet and look outside Logomakerr.AI to find the perfect match.
Google Font Hunting
Ah, this is our favorite part. With Logomakerr.ai, you can search fonts using Google Fonts. The latter has an open source of 1562 font families and APIs. You may also choose the type of language you wish to use, making it a popular free font generator worldwide.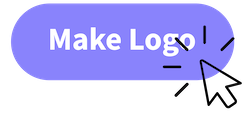 Logomakerr.AI allows you to make font adjustments.
If you finally found the perfect font for your brand's logo using a fancy text generator or the tool, but you still feel that there's something off or it still needs a little tweak, Logomakerr.AI allows you to make web script fonts adjustments by fine-tuning its spacing, curvature, thickness, italic, and height.
See? There is so much more than using Logomakerr.AI to generate fancy letters for your logo. With this logo designing tool, you can craft one that leaves your audience in awe every single time!
Plus, you can always re-edit it to bold fonts, cursive fonts, or calligraphy fonts to ensure that you follow the streamline of trends when it comes to logo designing.
Visually appealing and impactful fonts Tips from Logomakerr.AI
Now, it may not be enough to adjust, use suggested fonts, and look for the best fancy font on the internet. But what you can do more is to make sure that each font you use is visually appealing and impactful to the audience who sees it. Here are some tips and tricks to do exactly just that.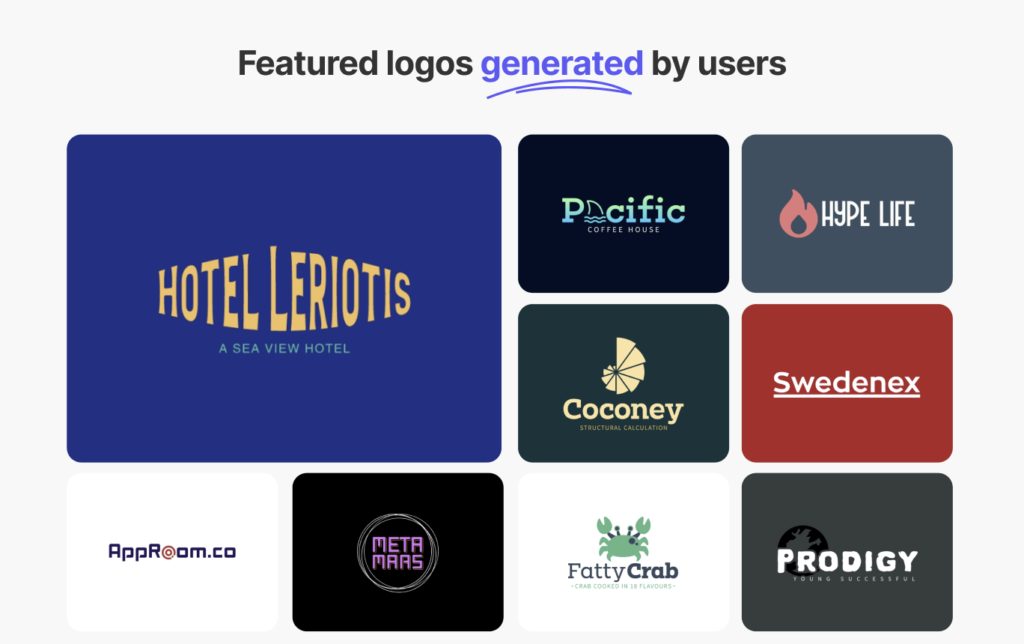 Understand the purpose of your logo – If you don't understand the purpose of your logo, you might be doing more harm than good in targeting the right font for your brand. Keep in mind that knowing your intended use will guide your design choices.
Consider readability – What's a font if you can't read it, right? Pay attention to letter spacing, line height, and the overall balance of your design. Experiment with different weights and styles to find the perfect balance between uniqueness and readability.
Simplicity is key – This may be the most used phrase when designing but for a good reason. You see, sometimes, less is more. Simple paste fonts can have a strong impact and are often more versatile. So try to avoid excessive flourishes or overly intricate details that may distract from the message you want to convey.
Play with other typography designs – For the nth time, there are over 200k more fonts in this world, and if you can't find the right one for you, that's maybe because you lack research and are solely relying on what's trending. Try to be unique and find timeless, fancy text that stand out.
Test and iterate – Test your fancy fonts across different platforms, devices, and sizes to maintain their visual impact and legibility. Get feedback from others to gain valuable insights and make necessary adjustments.
Final Thoughts
Logomakerr.AI is a valuable logo maker tool for designers, business owners, and anyone looking to harness the unicode characters potential in their design projects. Its intuitive interface, extensive font generator library, and seamless integration capabilities empower users to create visually stunning and impactful designs.
Use our logo maker to create a distinctive logo that conveys your brand's values and differentiates you from competition.
So, why limit yourself to the standard copy and paste fonts when Logomakerr.AI offers a world of possibilities? Try it out today and witness the transformative power of fancy text in your creative goals!